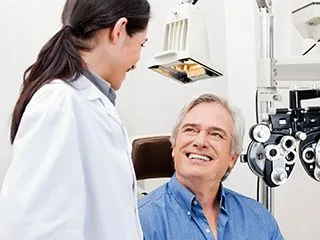 Diabetic retinopathy is an eye disease that occurs when there is damage to the retina. It's the most common complication because of diabetes and can lead to significant vision loss. However, if caught early enough, you can arrest this condition with treatment. At Riviera Opticare, we can detect and provide for treatment for diabetic retinopathy.
Riviera Opticare is a reputable optometry practice serving Scottsdale and Mesa, AZ. Our team of optometrists is committed to providing the best vision care. We offer comprehensive eye exams that include testing your overall eye health, patient history, visual field tests, visual acuity testing, and screening for diabetic retinopathy.
What Exactly Is Diabetic Retinopathy?
Diabetic retinopathy is caused by blood vessels in the retina being damaged by diabetes over time, leading to vision problems. The rates of developing this condition vary depending on factors such as how long someone has had diabetes, how well his blood sugar levels have been controlled, and the age at which he was diagnosed.
What Are the Symptoms of Diabetic Retinopathy?
Diabetic retinopathy signs include:
Blurring or changes in vision
Flashes
Floaters (specks in vision)
Sudden loss of vision
Eye pain
If you notice these symptoms, get a comprehensive eye exam from an eye doctor to determine if you have diabetic retinopathy. The sooner you catch this disease, the better your chances of slowing or halting its progression are.
How Is Diabetic Retinopathy Treated?
There are several treatments that we recommend to slow down the progression of diabetic retinopathy. The most common treatment is the combination of medication and laser therapy. The laser therapy will stop the growth of new blood vessels, and the oral medication will help prevent future diabetic retinopathy during periods of elevated glucose levels. For patients with proliferative diabetic retinopathy, we may recommend laser treatments, the use of anti-VEGF injections, or photodynamic therapy.
It's essential to know that diabetic retinopathy is a warning sign of other diabetes complications. It can quickly lead to blindness if you do not get a hold of it soon enough. That is why all diabetic patients need to schedule annual checkups with their optometrist after receiving a diabetes diagnosis.
Visit Riviera Opticare for Diabetic Retinopathy Diagnosis and Treatment
If you are already experiencing diabetic retinopathy symptoms, it is vital to find an eye doctor immediately. Schedule an appointment with Riviera if you notice any changes in vision or flashes in your vision.
We will recommend a suitable treatment solution for your diabetic retinopathy based on the severity of your condition. We want you to have a bright future, so do not delay in getting a comprehensive eye exam from our experienced team of optometrists. We serve the residents of Scottsdale and Mesa, AZ. Call (480) 991-6432 in Scottsdale and (480) 827-9184 in Mesa to schedule your appointment.